My dog is handbag-sized. When we first brought her home I smugly thought how easily she could be smuggled into almost any pub or shop, and for some months this was true; if she was noticed, she was tickled and cooed over and any 'no dogs' rules were waived in the wake of her cuteness. However, things have changed.
Firstly, she is always far too filthy to be carried without rubber gloves, let alone popped into a handbag (I do occasionally wash her, but the effect is so short-lived it's barely worth the effort). Secondly, in her 'maturity', she has developed a painfully high-pitched yap that can damage the hardiest ear-drums. As such, she is now only welcome in the most unwaveringly dog-friendly of places, and so I've had the necessity of coming to know the best dog-friendly pubs and restaurants in South East Cornwall.
Below are my recommendations on places near Treworgey to get good food while your dog lies under the table. Just be sure to check they don't have a reservation for 'Kyte' before you book.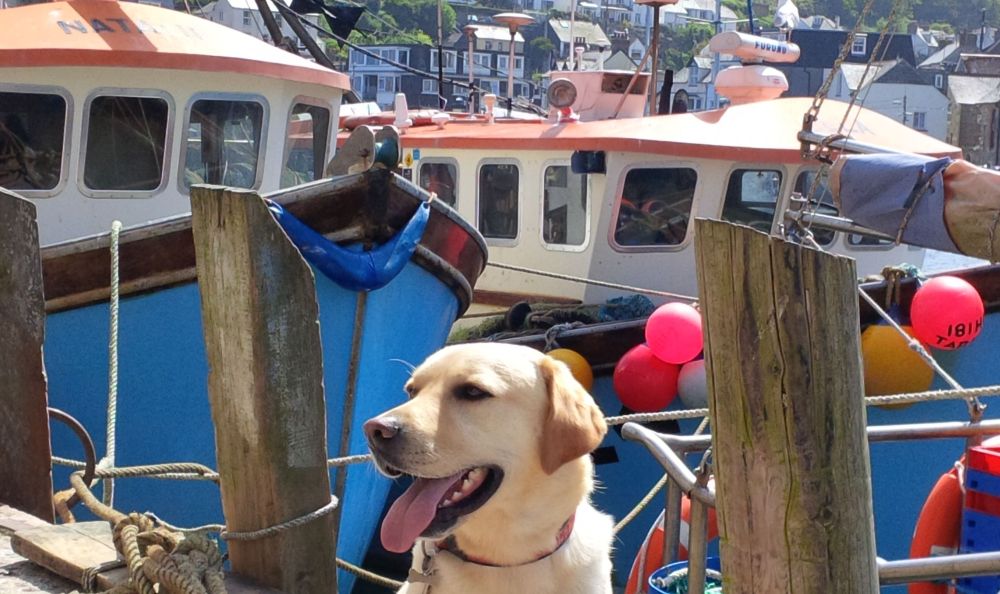 The Plough, Duloe
Our local pub, the Plough, does excellent food made with local ingredients. It's towards the posher end of pub-grub and they serve local ales and delicious cider from Cornish Orchards (which is just down the lane from Treworgey). You and the dog can walk there from Treworgey in about 25 minutes and muddy paws and wellies are welcomed without a raised eyebrow. In winter the fire is usually alight and the place is spacious enough for your Great Dane to spread out beside it. Mention you're bringing a dog when you book as they try to keep the dogs in one of the areas. Get a two course meal for about £24 or excellent Sunday roast for £13.50.
Talland Bay Beach Café
For a truly fresh crab sandwich with a sea view, snuggle into one of the beach huts or spread out on an outside table at the Talland Bay Beach Café. Dogs are allowed on Talland Beach all year round and it's a good place to start a walk on the beautiful South West Coast Path.
The Devonport Inn, Kingsand
This might seem like an odd decision, but we decided to take the dog on honeymoon with us: a glorious 3 days in Kingsand, 40 minutes along the coast going East from Treworgey. One of the best things about Kingsand is the friendly Devonport Inn in which we had the most delicious food. The village is home to a bizarrely large number of beautiful English pointers, so of course the pubs are dog-friendly. Sit outside by the sea if the weather's good and don't miss the fantastic mackerel sushi. Get a two course meal for about £21.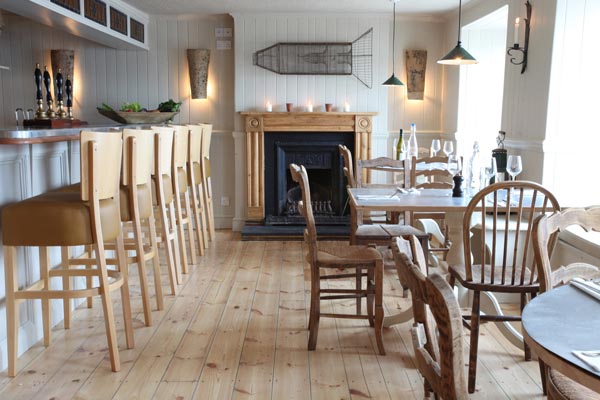 The Lookout, Looe
For a decent coffee and excellent breakfast with the dog in tow, try the Lookout. Watch the fishing boats and gigs coming into the harbour while you eat and offer up your dog for the photo competition by placing it where it says 'dog in a box'. I've heard they're good for an evening G&T too!
Kitchenside Bakery, Looe
The Kitchenside Bakery is our favourite place for a cuppa and a really excellent homemade scone (the strawberry one was fantastic, despite my initial suspicions). All the cakes and treats are delicious and they also do simple toasties etc for a light lunch. The décor is kitsch – in an good way- and it's incredibly cosy with wing backed arm chairs and nostalgic mis-matching crockery that might have been donated by your granny.
Smugglers' Rest, Talland
On a summer's evening, can you imagine anything more perfect that sitting on a bench looking out over the Cornish sea while the aroma of fresh fish and shellfish being barbecued nearby drifts under your nostrils? Definitely book as this place it's seriously popular on a sunny evening.