01503 262730
Sustainable and Green holidays in Cornwall

Winners of the Silver Award for Responsible, Ethical and Sustainable Tourism 2018/19
Cornwall Tourism Awards
We are strong believers in the importance of respecting our environment, both local and global. We have invested as much of our revenue as we possibly can into renewable energies including solar, wind and biomass and go to great pains to ensure that each of our beautiful old buildings is restored and cared for in keeping with local vernacular and using local materials and skills. Sustainability is at the forefront of our minds in every decision we make in running our business day-to-day, from refurbishing interiors to managing the farmland.
Below are more details if you'd like to know more and if you are interested in seeing our renewable systems, please don't hesitate to ask during your stay and we will gladly show you around!
Environmental Statement
Treworgey Farm is situated in an area of great natural beauty with fantastic views as all can see. The 150 acre farm is home to a wealth of diverse wild life and plant life from barn owls to bats, from hedgehogs to herons as well as spectacular wildflowers, ancient woodland and wetland. Treworgey is also home to old buildings, walls and hedges that are fantastic examples of traditional Cornish methods and workmanship.
As the lucky custodians of this tranquil little piece of Cornwall, we want to try to protect and preserve the land, plants, wildlife and buildings here for people to future generations to enjoy.
Living in such a beautiful but delicate environment has made us acutely aware of the impact that humans can have on the natural world, and we recognise our part in this on a global scale. We aim to enthuse our guests with our passion for caring for the environment and hope that they will take this with them when they leave.
Our environmental policy is a combination of an ethos, explained above, and a set of promises as follows:
1. Green energy We will use new technologies and significant investment to achieve greener methods of gaining the energy we need, and will reduce that need where possible.
2. Reducing emissions We will use local suppliers, encourage guests and staff to car share or use public transport, and will order deliveries efficiently to try to limit the emissions we cause. We have installed an EV charging point to help our guests reduce their emissions by bringing electric cars. When our business van comes to the end of it's life, we will invest in an electric vehicle ourselves.
3. Waste We will provide easily accessible recycling facilities for all our guests and staff on-site, as well as composting facilities
4. Green products and suppliers Where possible without compromising our standards, we will use environmentally-friendly products such as toiletries, cleaning agents and gardening products and will use suppliers that make efforts to respect the environment wherever possible.
5. Caring for our land We will take care to preserve natural habitats including hedgerows, wetlands, woodlands and waterways and will avoid the use of pesticides or other chemicals that could harm these wherever feasible.
6. Caring for our buildings We will protect the local vernacular of our beautiful stone buildings, and will use traditional local methods to preserve their integrity
7. Supporting local We will use local suppliers and support local business wherever possible, and will support our local community through charitably giving, staff training and community engagement.
8. Sharing our vision We will strive to inspire staff and guests to care for both their local environment and the planet. We will also lead by example, share our experiences and learn from others in the tourism industry via forums such as the Cornwall Sustainable Tourism Scheme and the Green Tourism Business Scheme (which has given us their Gold Award).
30 Ways to be Green on Holiday
30 ways whilst holidaying here you can help reduce energy wastage and preserve Cornwall:
1. By using the log burner (in any of the cottages where one is provided) if you require more warmth instead of more central heating.
2. By turning heating down and closing all windows when you go out.
3. By turning heaters/ radiators off when not needed.
4. By turning off appliances when they are not in use – like when you're mobile or laptop have finished charging
5. By only using the washing machine with a full wash load
6. By washing your clothes on a cooler setting
7. By using eco friendly washing powder such as Ecover for your clothes washing. It is far less polluting, especially when in the country where all our drains go into septic tanks which can't work properly if they have chemicals such as bleach attacking the good bugs that break down the sewage.
8. By using eco friendly cleaning products if you want to do any cleaning of surfaces etc while you are staying here – you should find a selection of these in the cottage but do let us know if you are running out
9. By only washing towels and clothes when necessary - do you want to spend ages washing on holiday anyway?
10. By avoiding using a tumble drier, or partially drying cloths in the dryer and then using the airer provided. By far the greenest is to use the washing line whenever possible - weather permitting!
11. By stacking your dishwasher up during the day and only running it when full. We provide you with environmentally friendly dishwasher powder. Also you can run large appliances – like dishwashers – at night using the delayed start function on most of our machines. This is when electricity is off peak, so by using electricity at this time not only is it cheaper but furthermore power stations should have to produce less to meet peak demand.
12. By turning thermostats down on electric heaters at night.
13. By running your central heating at a lower setting if comfortable. (The evenings when you are resting, temperatures need to be warmer than when in and out during the day.)
14. By shutting windows when heating is on and drawing the curtains at night.
15. By showering rather than bathing and avoiding everyone in the house washing at once ….. to give systems like the heat pump or solar more chance to recover.
16. By not buying bottled water - drink our wonderful water at Treworgey - and take some home!
17. By not leaving taps running and by conserving water where ever possible.
18. By composting your green waste.
19. By .....Recycling ..... recycling ...... as much of your waste as possible - all your glass, paper, plastic etc in the bins provided or drop off at recycling banks when you are out and about.
20. By switching off lights not in use.
21. By switching off lights and shutting doors and windows in playrooms and information room when you have finished.
22. By switching the television off, rather than leaving it on standby.
23. By shopping locally, using our onsite produce stall and eating locally grown and produced food.
24. By in house dining ... using Coombe Kitchen meal service. Delicious food is all cooked at Coombe here on the premises .... and with local fresh produce.
25. By spending days here at Treworgey and enjoying the facilities here - less travel – less fuel.
26. By walking from Treworgey (instead of driving to go for a walk) around our beautiful farm and woods - why not take a picnic?
27. By leaving the car at Treworgey and using the train at Sandplace – or the local bus service which can be met at the end of the lane. If you leave the car behind and walk, cycle or use our excellent local trains you will see so much more of the beautiful Cornish countryside.
28. By visiting lots of the wonderful attractions here on our doorstep and avoiding too many long car trips to more distant attractions.
29. By sharing a ride - If you have two cars here, jump in together and go out in one!
30. Please shop and eat locally - sample some of our wonderful local produce such as great local food from 'Simply Cornish' in Looe, The best home made pasties at the Pasty Shop (blue and white stripy) in Fore Street Looe, Cornish Orchard's wonderful apple juices and jams just up the road from Treworgey and our local farmers markets, butchers and small farm shops. Do remember our in house meal service and when you want to eat out try our wonderful local restaurants too. It is only a short car drive (or train ride) to Trawlers in Looe or The Well House. These restaurants for example use local produce wherever possible.
These suggestions all save significant amounts of energy.
Our Environmental plea ….If you have experience in green technology and can advise us on how to improve, do please come and talk to us. We would really appreciate guests feed back. If you have ideas on how we could be greener - or ways in which we can improve your holiday experience in general, do please tell us.
Thank you for reading.
A history of sustainable thinking
Linda and Bevis were focused on sustainability long before it loomed large in the public consciousness or became a marketing point for holiday providers. Care of the wildlife on the farm, a commitment to the local community and a strong sense of their responsibility as land owners and builders were ever-present in their minds since they began Treworgey in 1977. They began investing in green technologies in 2005 with the installation of a ground source heat pump (to provide the heating and hot water for River Barn and Lois' cottage) and are still investing in new green technologies nearly 20 years later.
Wind Turbine
In September 2007 we installed a Proven 6 kW wind turbine. Disappointingly, we were unable to install the larger 15 kW one that was planned due to a design fault. Nevertheless, it is very satisfying to see our 6 kW turbine flying around on a cold windy winters day, knowing that we are generating our very own electricity and further reducing our carbon emissions. The wind turbine was our most expensive project to date at the time and because we installed our turbine in the early days, we are not able to claim the government feed-in tariffs that became available later. The turbine is only recouping it's initial investment around now!
Treworgey's turbine has been installed 300m up the hill on the windiest part of the farm, two fields away, behind the cottages. The blades are connected to the generating head. The electricity produced is passed down the cable underground to the inverters that are housed outside the farmhouse. The inverters convert the electricity so that it is compatible with the mains. The electricity then passes from the inverters to the main meter in the farmhouse, which feeds two other cottages and the office.
We normally use all the energy produced plus obviously more from the national grid. When on occasions like a windy summer day, we are producing more than we need, the surplus passes into the national grid. The wind turbine compliments the solar PV well because the solar produces much more energy in the summer, whereas the turbine tends to work best in the winter. The mains single-phase supply we have here at Treworgey is currently incompatible with a larger turbine which requires a three-phase supply.
Solar Thermal
In our experience, Solar panels used for heating water have proved to be a very effective form of green energy.
In 2004 we installed banks of solar black plastic mats on the bank beside the swimming pool to reduce the huge amount of oil that we were burning to heat the pool. They made a big difference on sunny days in summer, but on average did not make a significant difference overall.
So in 2007 we invested heavily replacing the mats with glass solar tubes. For those who don't know about solar thermal - Inside the glass tubes are metal collectors within a vacuum. These tubes can get hot enough to fry an egg on sunny days and are still very effective on cloudy days. Solar thermal is particularly effective for heating a pool as the evacuated tubes heat large amounts of water from low temperatures.
The results were much better, and when we were able to heat our pool at Treworgey on our own renewable biomass, we have kept the tubes and moved them to the new pool at Leyland.
Since then we have also installed solar thermal tubes to help heat the water in Trelawney, Jasmine, Trelugas, River Barn and Lois.


Solar PV
Cornwall is recorded as being one of the best counties in the uk for capturing the power of the sun.
In 2012 we installed our first Solar pv systems at Treworgey and Coombe (8kW each) and they have been brilliant (and low maintenance). In 2023, Andy and Linda managed a project to install another 24kW at Treworgey and 8kW at Leyland and have bought batteries for some of these banks - we intend to monitor the success of the batteries and hope to buy more for the remaining banks in future.
Biomass District Heating System
Our biggest project yet was launched in 2013 – the installment of a district biomass heating system that provides all the hot water and heating needed for all the cottages at Treworgey. This includes a 200KW boiler which heats a closed system of water that travels around all the cottages via underground pipes. At each cottage, there is a heat exchanger to extract the heat. The installation, which was run mainly by Bevis, was an enormous project – by far the biggest and most expensive that we've done yet. It took several months and that was after the huge amounts of preliminary research and planning largely done by Linda.

For a few years, we ran the boiler on locally sourced wood chip while our newly planted miscanthus crop became established. Since then, we have harvested and used our home-grown miscanthus meaning we are self-sufficient for all heating and hot-water at Treworgey!
Our biomass system was made possible by the government's Renewable Heat Incentive scheme. At the time of our project, this was only available for businesses but since then, they have introduced a domestic Renewable Heat Incentive scheme.
We have since also put a smaller pellet boiler at Coombe to heat the three cottages down there. This uses pellets made from waste from sawmills. We hope in future to be able to put another miscanthus boiler at Coombe so that we can grow the fuel for this part of the farm too.
Recycling and Composting
All of our cottages are provided with recycling and composting bins for your use during your stay. At the moment we have recycling facilities for all card, paper, plastics, glass, and cans.
We have large composting bins by the muck heap, just across the lane from the entrance gates that lead to the recycling bins and the riding arena, for all raw kitchen waste. All grass cuttings and horse manure are used to mulch our garden shrubs and young trees, which also helps to save on watering in drier periods.
While here, fill your own bottles with natural water from our own borehole instead of buying bottled water, cheaper and a lot better for the planet.
We use recycled stationary. We recycle all used batteries and printer cartridges.
Wood for our log burners, fires and fire pits are seasoned for over a year and are from necessary thinnings in our local woods. Mostly our own woods – which means no or very little transport.


EV Charging
Electric Car Charging
To use our charging point for your electric car, please book slots to suit you at
(Please note: you will only have access to this booking system from 3 weeks before your stay)
You'll find the charging point on the end of the green shed, just by the riding arena as shown on the map.
It's a 32A charger with a universal socket.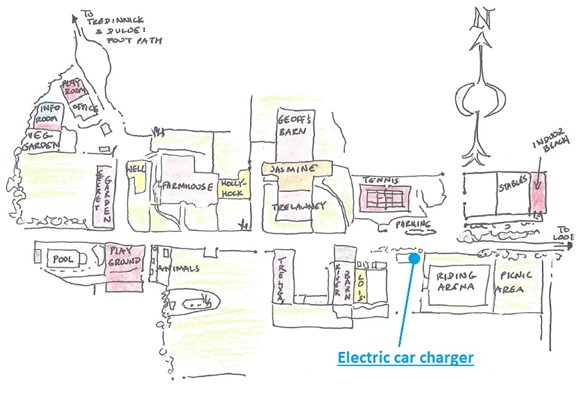 Green Travel
Offset your journey
As part of our green policy we invite you to plant a tree at Treworgey to offset your journey down and your general carbon footprint. You can either bring a tree from home or buy one locally and we will plant it for you in our woodland during the planting season. The tree should be a native broadleaf.
Greener journeys
We encourage our staff to car share where possible and to make multiple use of any journey made. Most of our staff live locally and two usually walk to work.
Cyclists and car-free walkers are encouraged at Treworgey and we will even pick up your luggage and you from the train station (if you come via our local Sandplace station.) Please give us plenty of warning of times.
During your visit you can also leave the car and make use of buses and trains, which can be an adventure in themselves. A ten minute walk through our bluebell wood will take you to the charming halt at Sandplace on the famously scenic Looe – Liskeard branch line. During your visit, you might like to have a look at Transport Direct. It is a great web site that lets you plan a journey by public transport.
We actively encourage our guests to use local attractions and places to eat - especially our Treworgey local organic shop and Treworgey's yummy home cooked meals cooked here on site at Coombe Kitchen.
What we buy
We think carefully about the sustainability of our choices every time make a purchase, from buying the highest energy-rated appliances we can to buying locally produced or crafted products wherever possible.
We are also working hard to reduce waste and consider the whole lifetime of an object, particularly in our regular renovation products. We must regularly upgrade our interiors to retain our 5 star rating and the luxurious feel of our cottage. To do this without constantly throwing out items we invest in antiques that never lose their sense of quality, and in products that last for as long as possible (for example authentic Persian rugs, top-quality fabrics that don't fade for as long as possible and good quality appliances). When an item is no longer up to our standards, rather than throwing it out, we are working hard to find new homes for things - whether that be by giving them away to staff or charities or re-hoping them using Facebook market place.


Wildlife
We have always recognised our duty as caretakers of the wildlife and flora that share the farm with us, and recognise that we are as dependent on these as they are on us. To promote flora and fauna at Treworgey, we make the following efforts:
- On our miscanthus crops, we use no pesticides or fertilizers other than manure
- We've brought pesticide use to an absolute minimum (whilst maintaining quality) in our gardens
- We've created headlands around miscanthus fields to promote wildlife
- We sensitively maintain our hedgerows to promote wildlife
- We choose garden plants that encourage bees and other insects
- We protect our woodland by fencing it off from livestock to avoid erosion and building footpaths to avoid walkers causing erosion or disturbing wildlife.
Our community
Treworgey is part of a thriving local community, with particular needs. We try to take part and be a positive player in our local community in the following ways:
- Employing local people: our team of approximately 30 people are all local, thanks to our policy of advertising in local shops and publications
- Using local suppliers: the vast majority of our suppliers are within a 10 mile radius; we want to support the local ecnomy and promote employment and help money to stay in Cornwall
- Each year we sponsor our local village ale and cider festival: a great community gathering that promotes local producers. This in turn raises money for village projects, such as the recently-built skate-park.
- Most years we put together a staff team for the Looe raft race, which raises money for local charities.
- Every year we give away a 3 nights holiday for two with a 3-course dinner in a charity raffle in aid of a local cause. This year we raised over £500 for the Looe branch of the Royal National Lifeboat Association, which is vital for coastal safety in our local area.
- We welcome students from our local equine college (Duchy) for work experience in our riding school and have run several apprenticeships for Duchy students in recent years (in gardening and equine work). We have been thrilled with the progress of these students during their time with us: their development in terms of knowledge and confidence has been incredibly rewarding.
Our staff
Treworgey has an incredible team of people with a vast range of skills, and we are immensely proud of them. We strive to include staff in decision-making, and to act on their ideas, and this has resulted in a close-knit and committed team. We offer workers support that goes beyond their wage packets, providing really flexible hours for those who need them (such as parents), and working hard to provide employment all year round in an industry that is very seasonal. This is rewarded by the fact that many of our staff have been with us for over a decade (one for 40 years!).
What our guests have to say
This family's efforts in promoting the 'green issues' are to be applauded, 1) for their foresight years ago and 2)for its implementation and integration into this fantastic business. The planet will thank you.
Julian and Julie Anderson-Gwynn