01503 262730
2024 weekly cottage prices
Use this page to help you plan your stay with us. You can view prices for the whole year for each cottage.
Thursday / Friday changeover Saturday / Sunday changeover Download our 2024 prices PDF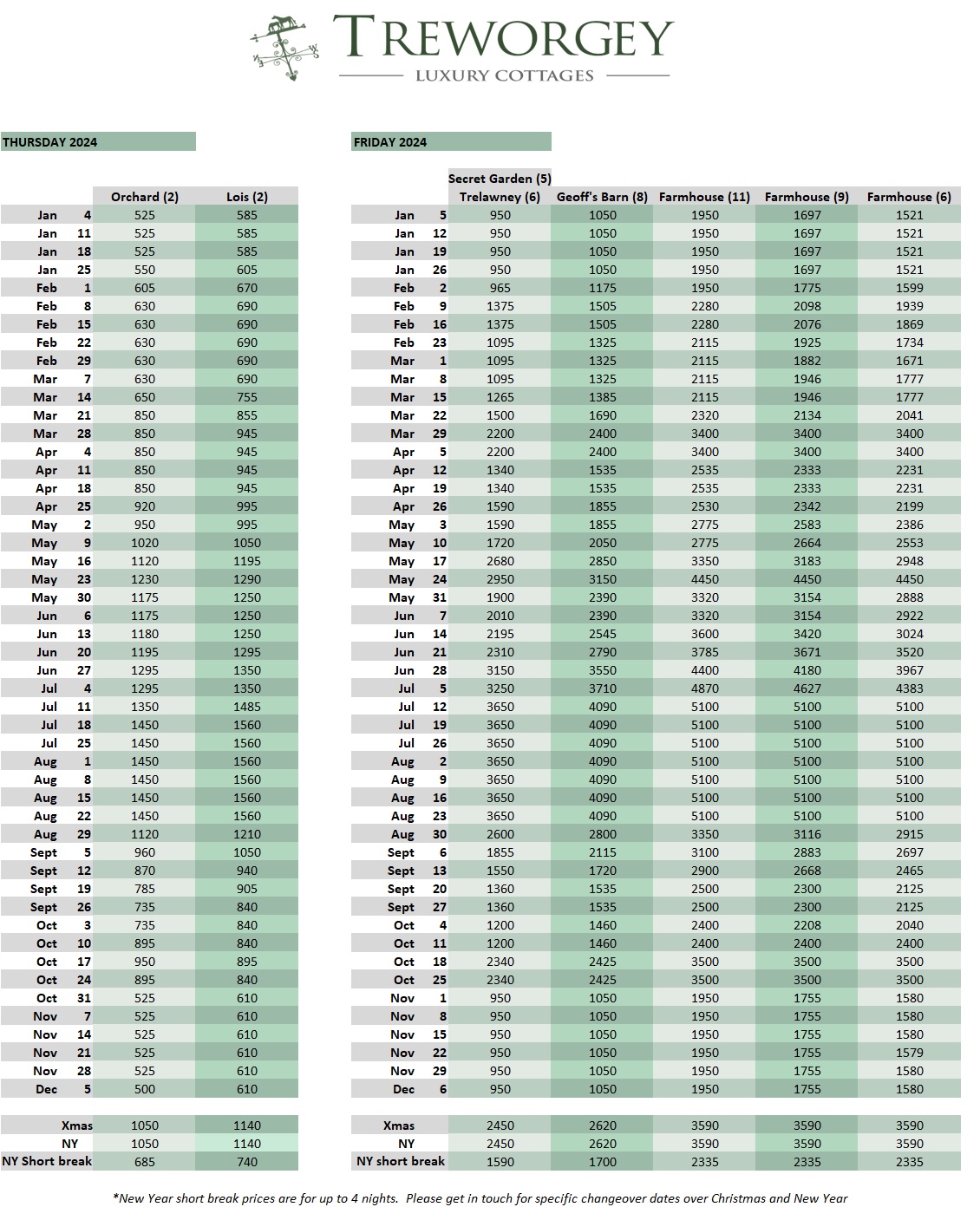 What our visitors have to say:
"It was lovely to wake to the sound of horses outside and we had a really enjoyable lesson on Louis & Storm."
MEG & MICHAEL
"We really appreciated all the thoughtful and welcoming things that greeted us -from seeing our name up on the door as we arrived to finding flowers from the garden around the place and of course the chocolates and champagne! We are feeling totally relaxed, rested and very very happy! I am sure we will enjoy many second honeymoons here in future!"
TOM & CLAIRE CRUMBLEHOLME
"Thank you all -we have had a very special family holiday in River Barn. Everything we needed was here & we could feel the thoughtfulness & kindness you have given to ensure we have a perfect holiday."
SHEILA, ALAN, MARK, VICTORIA & HENRI DUFF
"It was special to be able to bring our own dogs and really feel that they are welcome. Treworgey is one in a million and we will be back!"
THE BOYD FAMILY AND BALLY & LUCY
"Lovely cottage/grounds. First class accommodation -the attention to detail is terrific. Everything conveniently situated but very discreet -excellent. We will certainly be coming back to revisit soon."
MIKE & URSULA JONES.
"Just wanted to let you know that we really really enjoyed our stay in Hollyhock. The Cottage itself surpassed all our expectations and the scenery in which it is set truly took our breath away. The time spent was magical and we will be recommending our trip to all our friends and family. Once again thank you and no doubt we will see you again in the future ."
SUKH
"A beautiful cottage in beautiful surroundings. We have done lots of walking and lots of resting! A fantastic place to bring a dog - he has thoroughly enjoyed himself! Thanks for a lovely holiday!"
HELEN, JOHN & MERLIN THE BORDER COLLIE
"Would highly recommend pony sessions -our kids are beginners but they thoroughly enjoyed themselves."
THE DYON FAMILY
"It was three days before we ventured out - we were so laid back we were practically horizontal. It felt like we had stopped the world and 'got off.' Just heavenly!!! Thank you so much!"
PETER & ISOBEL CRANMER
"We needed a place to chill out and what a place! Sitting in the garden in the sunshine -morning, day and evening with that view. -I could have grown roots."
JEAN GASKELL