01503 262730
Dog Friendly Facilities at Treworgey
Private gardens
Each of our Five Star cottages has its own enclosed private garden that is secure for dogs unless you have a good jumper! Several cottages have a gate leading directly into a meadow or onto one of our farm walks.
Farm walks
There are wonderful walks from your garden gate along our flower-filled lanes and across Treworgey's beautiful 150 acres, with fabulous views to the sea and the Looe River. We have produced a fold-out pocket map to guide you.
Nearby are the magnificent South West Coast Path as well as sheltered woodland walks. We have outside taps available which come in handy for those who like to walk for miles, whatever the weather.
Paddock for dogs to play
We have created a dedicated dog paddock, fully secured with high, small-mesh fencing. There's a convenient bin for dog waste by the gate and we mow a meandering path with benches around the field in the summer. The dog paddock can be found just below the riding school and can be accessed from either end.
Dog welcome packs
Every dog is welcomed by treats, bowls, a towel and a couple of poo bags (for the first evening, in case you've forgotten yours), and there will be laundered throws on the sofas and arm chairs.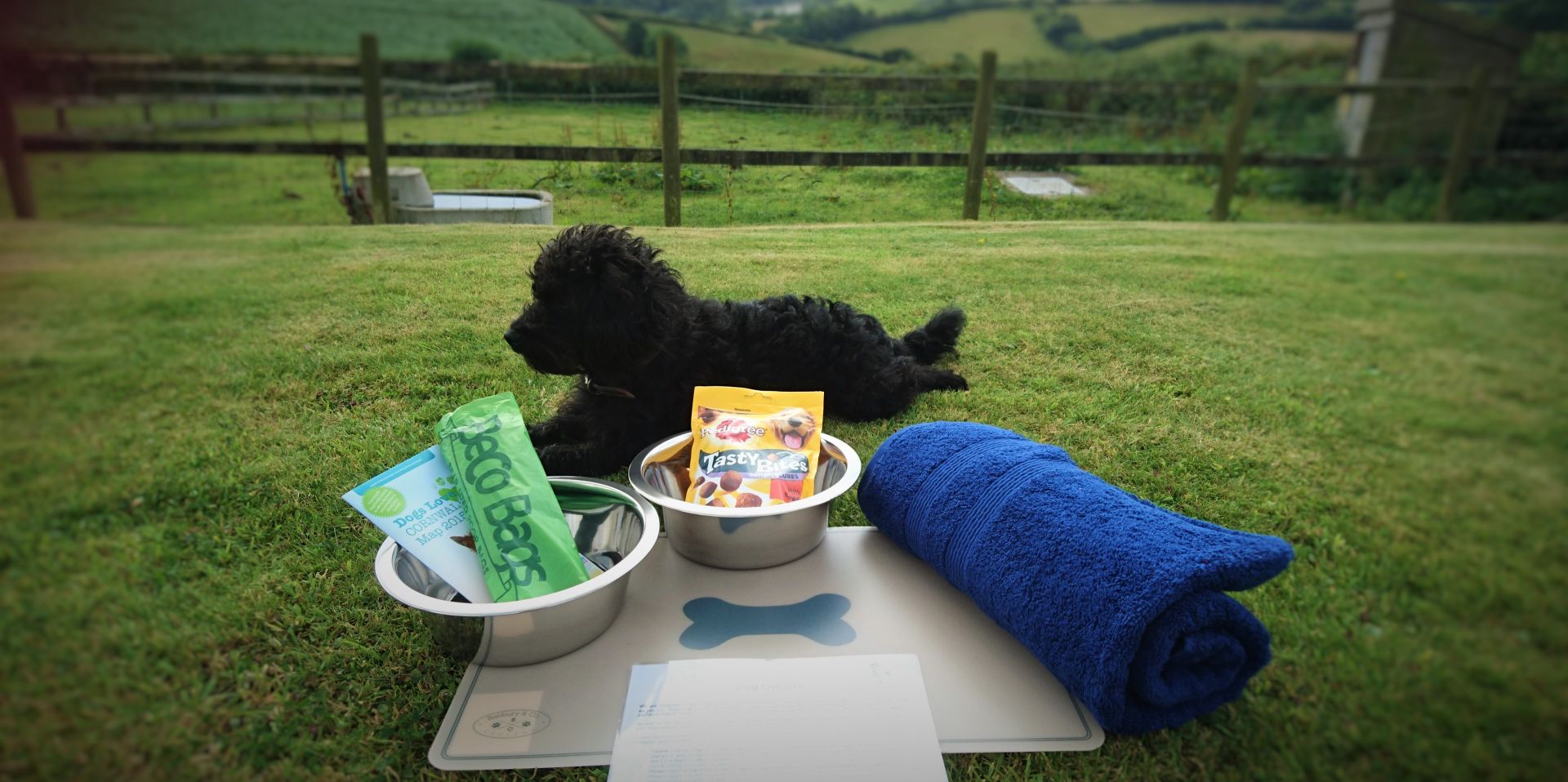 Dog tie-up area
There are very few places that dogs are not allowed around Treworgey, but we do ask that they are not taken into the pool area or playground. To make this easier for our guests, we have created an enclosed area with shade, fresh water, dog beds and tie up rings right near the pool and playground.
Dog shower
In the tie-up area, we now have a purpose-built dog-shower! This is a raised shower tray with ramp and trigger-activated shower hose with full temperature control. Much nicer than a cold hose bath!
What our visitors have to say:
"Had a great week in a lovely cottage. A fantastic place to be with our dogs -too few places are really dog-friendly AND luxurious but this one genuinely is. And loads of great dog friendly beaches."
MICHELL & JAMES PRIEST (& FERGUS & HAMISH)
"It was special to be able to bring our own dogs and really feel that they are welcome. Treworgey is one in a million and we will be back!"
THE BOYD FAMILY AND BALLY & LUCY
"6th visit. Thanks Jane for Sunday dinner. Monday went for a lovely hack. Good blast through the woods - thank you Rhi. Dogs loved their walks. Ready now to go home with batteries recharged. Will miss the stunning views and the roaring fire and the evocative smell of burning wood. Already looking forward to next visit."
VIV AND STEVE ELVIN