Dog-Friendly Holidays
* DOG-FRIENDLY BUSINESS OF THE YEAR *
Cornwall Tourism Awards 2018/19
If you are looking for a truly pet-friendly holiday in Cornwall, Treworgey is the place for you. We have numerous very regular four legged guests who love having a private garden to play in, 150 acres of fields and woodland to roam, a big field kept free of other animals for them to run loose, a welcoming dog pack on arrival (including bowls, towel, treats, dog-friendly map of Cornwall and feed mat), throws to protect sofas and dog-friendly pubs and restaurants nearby. We only wish they could review us!
You are very welcome to bring up to two dogs to stay. We also welcome your well-behaved cat, tortoise, pet rabbit or pony.
Treworgey is a working farm and we do ask guests to follow the country code, close all gates and keep dogs on a lead when near stock. We also ask that guests don't go out and leave dogs alone in their cottage if they are likely to bark or chew on things. We always leave a few dog poo bags in your cottage for your first evening in case you forgot them. There are outside bins around Treworgey to put these in and you'll also see small metal shovels around which can be used to fling a poo in an out-of-the-way hedge or field (the greener option!). There are very few places around Treworgey that dogs are not allowed to enter, but please note that we ask dogs not to be taken into the pool area, playground or riding arena.
Please telephone on 01503 262730 or email us if you would like to discuss your requirements – and those of your pet – and we will be very happy to help you choose your ideal cottage.
Private gardens
Each of our Five Star cottages has its own enclosed private garden that is secure for dogs unless you have a good jumper! Several cottages have a gate leading directly into a meadow or onto one of our farm walks.
Farm walks
There are wonderful walks from your garden gate along our flower-filled lanes and across Treworgey's beautiful 150 acres, with fabulous views to the sea and the Looe River. We have produced a fold-out pocket map to guide you.
Nearby are the magnificent South West Coast Path as well as sheltered woodland walks. We have outside taps available which come in handy for those who like to walk for miles, whatever the weather.
Paddock for dogs to play
We have created a dedicated dog paddock, fully secured with high, small-mesh fencing. There's a convenient bin for dog waste by the gate and we mow a meandering path with benches around the field in the summer. The dog paddock can be found just below the riding school and can be accessed from either end.
Dog welcome packs
Every dog is welcomed by treats, bowls a towel, a couple of poo bags (for the first evening, in case you've forgotten yours) and a collar tag with our number and postcode to give you a bit of peace of mind.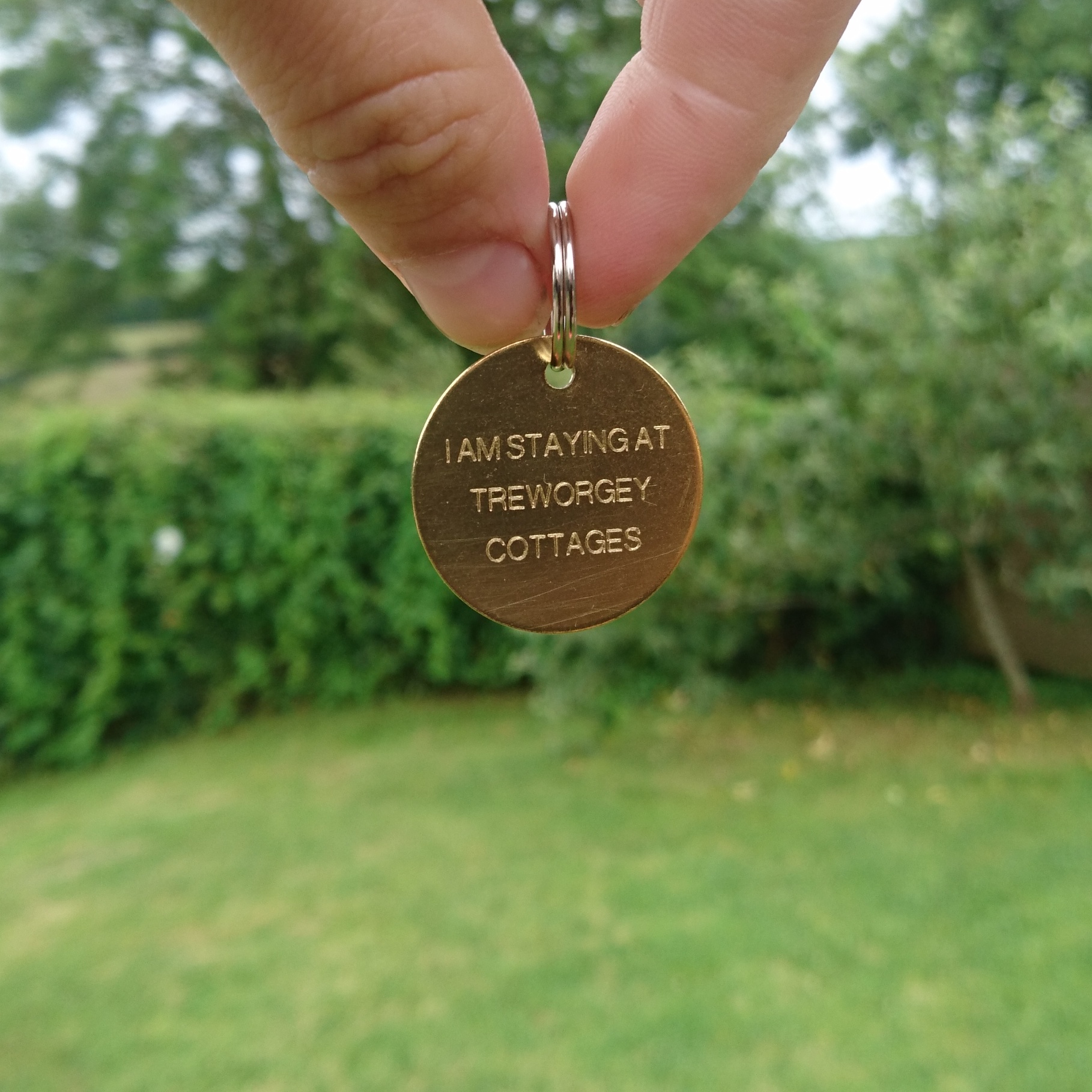 Dog tie-up area
There are very few places that dogs are not allowed around Treworgey, but we do ask that they are not taken into the pool area or playground. To make this easier for our guests, we have created an enclosed area with shade, fresh water, dog beds and tie up rings right near the pool and playground.
Dog shower
In the tie-up area, we now have a purpose-built dog-shower! This is a raised shower tray with ramp and trigger-activated shower hose with full temperature control. Much nicer than a cold hose bath!
Dog friendly days out
Pubs and cafes
The Plough, Duloe. Just up the road, great food and dog bowls for thirsty pooches
The Courtyard, Looe. Fantastic café with lots of inside and outside seating. Excellent food, very dog friendly staff, they like to make a fuss of their four legged friends.
The Blue Peter, Polpero. Lovely pub great atmosphere water bowl at the front door to welcome dogs in.
Woods Café, Cardinham woods. Not only will dogs enjoy the walks at Cardinham wood but the café has excellent food and dogs are very welcome.
Places to Visit
Mount Edgcumbe Gardens. Well behaved dogs are welcome all year round. and with gardens and its very own beach your dog will be in its element. There is a café on site but we recommend you take a picnic as we often do.
Cardinham Woods. We have mentioned the café here above and the woods are excellent for dog walks too. There are also pushchair friendly trails too so all the family can have a great day out.
Camel Trail. Whether you bring bikes, hire them or just walk the camel trail, we suggest you do it. From Bodmin to Wadebridge, Wadebridge to Padstow or the whole trip you wont be disappointed, with pubs and cafes in Bodmin, Wadebridge and Padstow mostly being dog friendly you will have a great day out. If you do Bodmin to Waidbridge or Waidebridge to Bodmin, a small amount of the trail is through the town with traffic. If you start at Wadebridge and go to Padstow you enter at the edge of town and don't need to worry about traffic until you arrive at padstow.
Beaches
These are dog friendly year-round!
Hannafore, Looe. Just a stone's throw from us a great beach for dogs with rock pools a plenty. Toilets are close by too and there are some great places to eat with the dog.
Seaton, Downderry. A fantastic beach for dogs to run and make new doggy friends.
Lantic Bay, along the coast path from Polperro. You will have seen this beach in the photo of Meg on the bench with Lantic bay behind her. Not only is this a very popular photo, but a very popular beach. Often not busy either. You will need to walk to this bay via the coast path and you will need to take food and water with you. There are no toilets here and we recommend you take something to shade your pooch as it can get very hot.
Whitsand Bay, Torpoint. This beach is perfect for dogs. With a climb down its not idea for people unsteady on their feet. There are lifeguards on duty every day during the summer and it's perfect for swim. This is a long beach and when the tide's out your dog will have no problem in tiring themselves out.
Local Vets
Luxstowe Vets are a big veterinary practice in Liskeard who we have used at Treworgey for many years.
Tel (including emergencies): 01579 342120
Calweton Vets, in the Milpool Carpark in Looe are used by Holly and Andy for their cats and dog. They are a very small practice but are knowledgeable and good value in our experience.
Tel: 01503 263773

Extras & services
On request we can arrange for a trusted dog-sitter to look after your pets in your cottage while you go out. We also have dog leads and bowls in case you've forgotten anything and there will always be a few dog poo bags in your cottage.
Charges
We make a charge of £23 per dog per week or part week. This is because we put laundered throws on all the sofas and arm chairs and allow time for an extra clean to make sure the next guest won't come across a stray dog hair!
Find us on a dog friendly site?
What our pet owning guests have to say:
"If it hadn't been for our new puppy, Harry, we would never have found this special place and had our first fUll week's holiday in the UK for many years! We don't want to leave tomorrow, but will certainly be back. We have had the most relaxing break away. Thank you all at Treworgey."
SUE, RICHARD & 'HARRY'
"Lovely to have the dog walks so close to the cottage. Have walked the bridle path & lane to Duloe & lunched at the Plough -very good & dog friendly. Have done the walk from the swimming pool across the fields. Trenant Woods. Duloe Woods. Pencarrow. Talland Bay to Polperro. Walks!"
THE RATCLIFFS AND DOGS
"Well done everyone, a lovely relaxing spot & great walks for the dog."
SUE & MARTIN & CHARLIE THE LABRADOR
"we had a fantastic time in beautiful and very peaceful surroundings. Our dog Ralphy had his best holiday yet. We have never been to a part of the world more dog friendly! Thank you to all atTreworgey for such a wonderful time."
MEG, MICHAEL & RALPHY
"It was special to be able to bring our own dogs and really feel that they are welcome. Treworgey is one in a million and we will be back!"
THE BOYD FAMILY AND BALLY & LUCY
"This has been our first UK holiday, first time to Cornwall, first holiday with puppy & children! Treworgey & Elm Cottage have been perfect for us -so comfortable and superbly kitted out. It has been one of our best ever holidays!"
TANIA, DAN, INDIA, TOM & POPCORN.
"6th visit. Thanks Jane for Sunday dinner. Monday went for a lovely hack. Good blast through the woods - thank you Rhi. Dogs loved their walks. Ready now to go home with batteries recharged. Will miss the stunning views and the roaring fire and the evocative smell of burning wood. Already looking forward to next visit."
VIV AND STEVE ELVIN
"Thank you for being so dog friendly, sadly becoming a rarity these days."
BREND & MARTIN GOULD AND HEATHER & YASHIN
"What a lovely cottage! Cosy, private and perfect for the two of us and our four-legged friends. This is such a wonderful area and so dog-friendly. It's a big thumbs up from us, thank you. "
CHRIS & SARAH CARR, AND POPPY & DAISY
"A beautiful cottage in beautiful surroundings. We have done lots of walking and lots of resting! A fantastic place to bring a dog - he has thoroughly enjoyed himself! Thanks for a lovely holiday!"
HELEN, JOHN & MERLIN THE BORDER COLLIE
Back to top