Covid-19
Horse Riding at Treworgey
We have a licensed riding school at Treworgey, just for our guests. We offer riding lessons and some hacking through the country lanes around Treworgey. Riding is available on weekday mornings until lunchtime. Lessons are taken in the 60m x 20m outdoor all-weather arena. Beginners are warmly welcomed, as are the more experienced who want training in dressage and show jumping.
We offer high quality riding on well-schooled horses – fun for beginners and the more experienced. Most riding stables cater for inexperienced or beginner riders on very quiet horses and ponies. For experienced riders this can seem like driving a Morris Minor when they're used to a Mercedes! Some of our horses and ponies are current or retired affiliated Eventers who are competed successfully all over the South West by Sarah (our Cottage Manager) and our daughter Holly - the 'Treworgey Event Team'!
Overall management of the yard is Linda's, who has the qualification of BHSII, and was a successful event rider in her youth. Our two instructors, Indie and Hester run the riding school day-to-day and teach the lessons. Guests often comment that they are both inspirational and confidence-giving teachers who make lessons great fun. Please note that in peak school holiday times, riding is occasionally limited due to huge demand in the riding school. We put our horses first.
Pony Clubs
During school holidays we run two pony-related clubs a week for children of 5 yrs or over. Children have the chance to groom and prepare the ponies, followed by riding, and fun and games on horseback.
Pony Club is on Monday's and Tuesdays from 2-4pm. Please note that 5 and 6 yr old children need to bring a parent.
You are most welcome to sign up for both pony clubs, but please note that numbers are limited to 12. We should be able to ensure that your children can attend at least one day, but occasionally we may have to get in touch to restrict children to just one of the two days.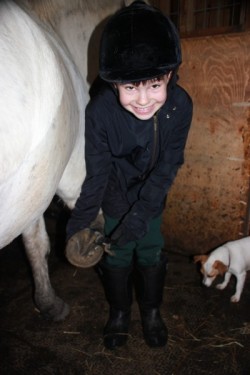 Trotting Tots Club - Free!
On Monday mornings in the spring (May - July, excluding school holidays) we run our Trotting Tots Club. This is around an hour where pre-schoolers (5yrs and under) can get to know our ponies, brush them, stroke them or just feel their different textures of fur, skin and mane, followed by pony rides for everyone. This club is free but please sign up at the office (or call us) by the day before. Little ones, please bring along a grown-up to help supervise you and to hold you when you're riding.
Riding Prices
A. ½ hr Private Lesson £30.00 per person
B. ½ hr Semi-Private Lesson (for 2 people) £22.00 per person
C. ½ hr Stable Management Lesson (minimum two people) £18.00 per person
D. ½ hr Group Lesson 3-4 persons max (must be intermediate upward)* £18.00 per person
E. ½ hr Lead Rein Hack for young children (under 5s to be accompanied by parent/guardian) £20.00 per person
F. 1 hr hack with trotting (intermediate or experienced riders only) £32.00 per person
G. 10 minute escorted walk from the stables and around the school (from 3 yrs up)* £10.00 per person
H. ½ hr Private Lesson for competition riders* £36.00 per person
(taught by Holly, Sarah or Linda, who have ridden at BE Int or Adv and jumped BS up to 1.25m. Linda is BHSII)
Pony Club Afternoon £26.00 per person

*Options C. and D. are subject to availability of pupils to make up the numbers.
*Option F. is subject to availability and at the riding instructor's discretion after a brief assessment in the school. Please never overtake the leader of the ride unless they have made the express request that you do so. The leader of the ride must be obeyed at all times reserves the right to cut short a ride if they deem a situation unsafe.
*Option G. must be accompanied by a parent or guardian.
*Option H. Available for guests who have competed at or above BE90, BS90 and/or BD levels.
Please note that riding prices are subject to change. The above prices are current from April 2021


We can tailor a package just for you, whether it's your first time on a horse or you're a seasoned competitor wanting to improve your dressage or showjumping. Here are a few EXAMPLES of what we can offer:
Taster Course (for beginners):
- 2 x ½ hour private lesson where our instructors will help you feel at home in the saddle
- ½ hr Stable management session getting you confident handling the horse from the ground

Eventing Course (for experienced riders):
- ½ hr cross country training lesson in the arena
- ½ hr show jumping lesson
- 1/2 hr dressage lesson

The winter riding offer is available to anyone booking to stay for 3 or more nights between November and the end of February (excluding school holidays). Please discuss your riding requirements before finalising your booking, particularly if you would like to ride during the weekend.

Bring your horse on holiday
We would love to meet your horse or pony and welcome them to stay at Treworgey with you during your holiday. We have two dedicated stables for guests' ponies/horses at Coombe (near Orchard Cottage) which is a ten minute walk from most of the cottages. Guests can use our all weather riding arena and full set of show jumps, have lessons from our fantastic instructor and hack in the lovely local woodland.
We are very experienced horse breeders, owners and riders, so Treworgey is a great place to bring your horse or pony, particularly if you want to progress your knowledge and develop your partnership.
We do ask that you don't let your horse 'meet' any of the horses on-site here, or bring them into the main stables by the tennis court. We apply these same principles when bringing any new horse into Treworgey.
Charges:
DIY livery: £50 per week (includes the stable, use of the arena and show jumps and, when possible, a paddock to turn out in)
Straw: £4 per bale
Haylage: £10 for the week for a pony or £15 for a horse (help yourself)
We offer £3 off ½ hr lessons or hacks if you ride your own horse or pony.
Please complete this form if you would like to bring your horse to Treworgey.
BOOK YOUR RIDING
PLEASE NOTE: During school holidays, we get incredibly busy during some weeks, and many guests book over a year in advance! This means you are unlikely to get the specific times you ask for. We will do our very best to fit in your riding on each day that you ask for it, but we cannot guarantee riding every day of your stay. We are really sorry for the inconvenience this may cause. Do be sure to book your children into our fantastic pony clubs to maximise their riding time!
Please complete our Riding Request Form
What riders at Treworgey have to say:
"It was lovely to wake to the sound of horses outside and we had a really enjoyable lesson on Louis & Storm."
MEG & MICHAEL
"What a delightful cottage -perfect for a break with 2 kids 2 and a half and 4. Had great fun in play area, sand pit and a lovely ride on Bramble. Thank you all.. Back soon for 3rd visit."
THE DAVIES FAMILY
"I like Pony Club a lot, especially when we did the relay races! Poppy and me and my partner did trot! I really don't want to go it's been a wonderful time staying here!"
ISABEL (AGE 7)
"Riding yet again was priceless, along with the extraordinary views and welcoming people. The riding at Treworgey is definitely UNBEATABLE!!"
ROSE LEWIS
"The horse riding has been so much fun, as usual, hacks are fantastic and jumping in lessons I love! Thank you so much Treworgey Team."
LAURA PAGE (13 yrs, Herts)
"Our 10th visit to Treworgey and our first stay in Trelugas, which has the best views out of all the cottages we've stayed in! Our children loved the new playground and riding the horses."
DARREN, VICTORIA, OLIVER & HARRIET, SUFFOLK
"The little ones really enjoyed a ride. The girls at the stables are so patient & caring. Thank you so much."
CHRIS & SUE GEORGE
"The girls [6 and 4 yrs] have loved every minute of swimming, riding, playing and meeting the animals."
THECURRIE FAMILY
'Thank you for letting us stay here as it is beautiful seeing the fields with the horses and rabbits and squirrels."
CHLOE, 7 AND LUCY, 6.
"I spent more time at the stables than anywhere else because the riding was so good! See you next year! Thank you!"
AMY(AGE 9)
Back to top