01503 262730
2024 weekly cottage prices
Use this page to help you plan your stay with us. You can view prices for the whole year for each cottage.
Thursday / Friday changeover Saturday / Sunday changeover Download our 2024 prices PDF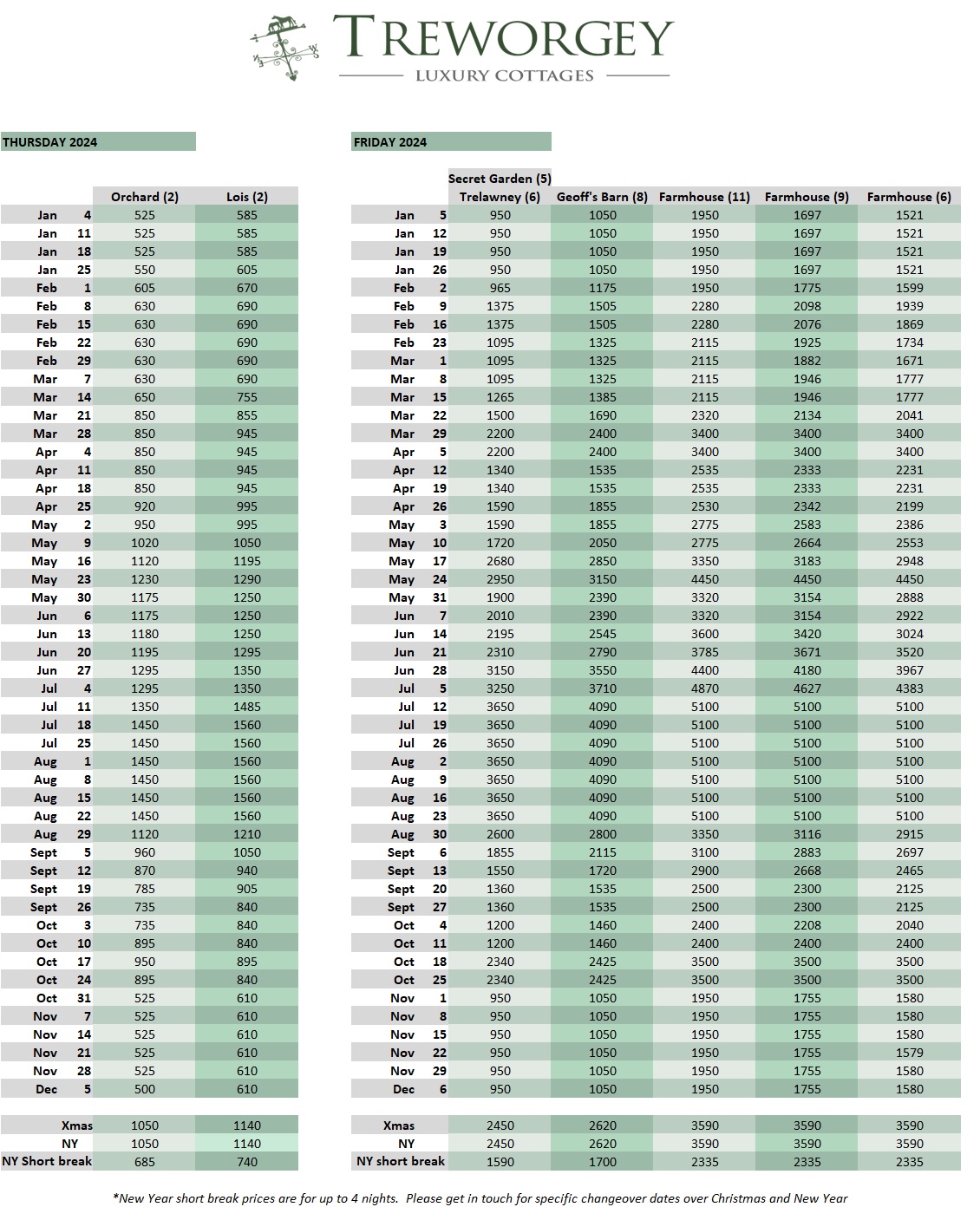 What our visitors have to say:
"We think it must be the best place on earth. We renewed our vows here in the lovely cottage garden."
ANNE AND MARK
"I spent more time at the stables than anywhere else because the riding was so good! See you next year! Thank you!"
AMY(AGE 9)
"We have so enjoyed the wonderful views from Willow -especially from the conservatory. Last night the moon was full & bright. The mist had rolled in & filled up the valley and in the moonlight it was as if we were looking across a huge, icy, white lake. Magical."
SANDRA & JOHN
"A very comfortable cottage with beautiful views. A truly relaxing week."
PETER & PAM GREGSON
"Our son loved the zip wire and go-karting at Adrenalin Quarry. Our daughter loved horse riding and helping at the stables. We will be back!!"
PAUL, LIZ, TOM(12) & MARY(10)
"Thank you so very much, it's been a wonderful holiday. This is truly amazing, the cottage plus the beautiful garden, we have thoroughly enjoyed every second of it. Thank you all once again. See you next year."
JANE& TOM AND OLIVE & PETE
"We've had a wonderful week in Jasmine. First visit here (and first of many we hope!). Beautiful place to stay and fabulous setting."
MARK, JUDE & MILLIE
"We have had lovely stay in Laurel Cottage. Thank you to everyone at Treworgey for making our stay very special - ­all the details large and small really count and put Treworgey ahead of any of the competition! Thank you. Look forward to returning next year."
THE CURRIE FAMILY
"Our both families enjoyed the wonderful time at this cottage. We never saw a so perfect, nice and beautiful house before .... So thank you for one week just fun and a week like a nice dream."
THE SCONBRUNN-KORBMACHER FAMILY FROM GERMANY
"Thank you for being so dog friendly, sadly becoming a rarity these days."
BREND & MARTIN GOULD AND HEATHER & YASHIN