01503 262730
Food at Treworgey
Coombe Kitchen (homemade meals)
Coombe Kitchen has changed!
Jane has been catering for more than forty years and now wants to have a little more time for herself. Rather than providing chilled meals daily, Jane is shifting to a new model for Coombe Kitchen. She will now be cooking a smaller selection of the recipes that many of our guests will know and love. These will be frozen and then placed in your cottage freezer ahead of your arrival.
Please note: Jane has the following holidays booked and so if ordering for these dates, please be aware that you may need to give more notice than usual:
4th to 18th November 2023
13th to 27th January 2024
24th February to 2nd March 2024
5th to 27th April 2024
Food homemade using local ingredients

Coombe Kitchen dishes are made in small batches from the best quality ingredients, local wherever possible, to Jane's tried and tested recipes. She uses only British, Farm Assured meat. Portions are generous and come labelled with simple heating instructions.

Thursdays and Fridays are afternoon tea and cake days! Freshly made cakes, cream teas and teatime treats can be delivered to your cottage on Thursdays and Fridays each week. Orders can be taken up to 6pm on Wednesdays and Thursdays, but if you can, please give Jane as much notice as possible
How to order
PLEASE PLACE YOUR ORDER BY EMAIL TO COOMBE KITCHEN AT LEAST TWO WEEKS BEFORE ARRIVAL (cakes and afternoon teas can be ordered in advance or during your stay, up to 6pm on Thursdays)
Email your orders to coombekitchen@gmail.com
Jane will always ackowledge your order once received. If you don't get an acknowledgement email, please get in touch!
Your order will be placed in your cottage freezer, ready for your arrival
Honesty Shop
The local produce stall, in our Information Room sells local organic meats, eggs and various local treats, from homemade jams and chutneys to Cornish chocolate, biscuits and tea. You won't find your weekly shop here, but as well as the local treats you'll find a few essentials such as Cornish milk and butter.
Cornish Hampers
For an extra special welcome, you can order one of our hand-picked hampers, full of delicious local goodies. Just add to the booking when you book a stay online, or ask our office to add one to your booking. We offer a choice of two hampers:
The Classic Hamper
Cornish Orchards Gold Cider
Cornish Orchards Blush Cider
Cornish Sea salt
Kernow Chocolate
Cornish Tea
Cornish Elderflower Presse
Cornish Fudge
Coombe Kitchen homemade Jam
Cornish Ketchup
Cornish Fairing biscuits
£40
The Luxury Hamper
Camel Valley Brut
Cornish Sea Salt set
Two Kernow Chocolates
Cornish Tea
Cornish Elderflower Presse
Coombe Kitchen homemade Jam
Coombe Kitchen homemade Chutney
Cornish Fairing biscuits
Cornish Ketchup
£65
Local Breakfast Boxes
These all-local produce breakfast boxes are delivered to your cottage for your arrival so there's no need to think, 'what are we going to eat in the morning'. Breakfast boxes are seriously local tasty treats selected by our on-site foodies at Coombe Kitchen.
Combined with supper from Coombe Kitchen for your first night, a breakfast box makes the ultimate hassle-free foodie treat.
There's a meaty and a meat-free option and both come in two sizes. We reckon that regular size feeds two people for up to 3 mornings or a hungry family for one hearty breakfast, and large size feeds a family of four for up to 3 mornings or a larger family of about eight for one hearty breakfast.
How to Order:
(Please note we require 48 hours notice for a breakfast box) Please email Jane at Coombe Kitchen on coombekitchen@gmail.com
The Full Cornish Breakfast Box (regular size)
granary loaf
6 free range eggs
6 pork sausages
200g unsmoked bacon (approx. 4 slices)
250 grms local butter
75cl bottle local apple juice
8oz jar homemade jam
£24.75
The Full Cornish Breakfast Box (large size)
large granary loaf
12 free range eggs
8 pork sausages
400g unsmoked bacon (approx. 8 slices)
250 g local butter
8oz jar homemade jam
75cl bottle local apple juice
£35.75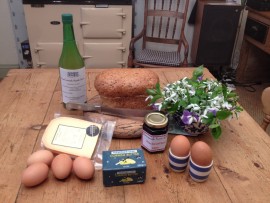 The Meat-Free Cornish Breakfast Box (regular size)
granary loaf
6 free range eggs
250 grms local butter
75cl bottle local apple juice
8oz jar homemade jam
Cornish hard cheese approx. 225g
£22
The Meat-Free Cornish Breakfast Box (large size)
large granary loaf
12 free range eggs – local produce
250 grms local butter
75cl bottle local apple juice
8oz jar Homemade jam
Cornish hard cheese approx. 400g
£31.35
The veg garden
Groceries
Local Cornish grocery deliveries: Local produce (as well as the usual boxed cereals, tea, coffee etc) can be delivered to your cottage by food4myholiday ready for your arrival. Food For My Holiday will contact us so produce can be ready and waiting in your cottage, even if you haven't arrived yet.
Supermarket deliveries: Waitrose, Tesco and Asda also all deliver here. You will need to pick a delivery slot for a time when you will be in the cottage as supermarket delivery drivers are unlikely to come and find us to let them in if no-one is there. Please put the name of your cottage and our usual address on your order..
Duloe Community Shop: our village shop is now run by the community and stocks a good range of provisions as well as excellent local veg, newspapers etc. Please support it! Open Monday - Friday 8am-5pm (shut for lunch 1-2pm) and Saturday 8am-1pm. While they don't deliver, they are happy to order/reserve papers, magazines or particular items for you to pick up - just pop in and ask or give them a ring on 01503 265592.
Nippers Shellfish: In East Looe on the quay right by the fish market providing the highest quality, most sustainable, selection of fresh fish and shellfish. You can order online and have a sharing platter or fresh lobster delivered direct to your cottage: https://nippersshellfish.co.uk/
Treworgey Farm Shop: Our honesty stall 'Farm Shop' sells delicious local treats and a few useful items like local eggs, milk and butter. It isn't to be relied on for your staples though!
Cornish Food Hampers: Cornish hampers and Cornish gifts from the award winning Purely Cornish Farm Shop - your first stop for Cornish Food Hampers. www.purelycornish.co.uk

Food4myholiday: They deliver to your holiday cottage, actually the kitchen table and fridge! One stop shop for Cornish produce! www.food4myholiday.com
Eating Out

The Plough: our local pub in Duloe, does good food. Walk-able and dog friendly. www.ploughduloe.co.uk
The Fish Market: on the harbour in Looe https://thefishmarketlooe.com/
The Conch: Recently opened restuarant in Downderry https://www.theconchdownderry.com/
Rick Stein's Restaurants: There are four restaurants in Padstow where you can try his food, The Seafood Restaurant , St Petroc's Bistro , Rick Stein's Café and Stein's Fish & Chips . Plus a pub in St Merryn called The Cornish Arms.

Couch's Great House Restaurant: Situated in the quaint fishing village of Polperro.
Kitchenside Bakery: Fantastic scones, cakes and very simple lunches in Looe. http://www.kitchenside.co.uk/#!kitchenside/c5zf
The View at Whitsand Bay: is light and modern with delicious local produce from sea food to meat and when they say 'The View' they really mean it - right out to sea from high on the cliffs at Whitsand Bay. www.theview-restaurant.co.uk

The Crown at Lanlivery: Ancient Cornish pub serving really good pub food. Near Lanhydrock. www.wagtailinns.com

Eating Out in Cornwall: A guide to eating out at restaurants in Cornwall www.eatoutcornwall.co.uk
What our guests say about food at Treworgey..
"Our first time in Cornwall and what an introduction! Stable and Treworgey definitely exceeded our expectations. Very cosy, comfortable and peaceful. Loved the view from upstairs too. Enjoyed how everything is here if you need it-food from Coombe Kitchen is delicious! We've enjoyed our holiday so much and don't want to leave yet-already planning the next visit!"
LAURA & TREVOR
'Just leaving after a wonderful, restful week. No cooking!! Can highly recommend Coombe Kitchen. Will definitely be coming back.'
JUDI, MAURICE & ANNELIE GREY - & MOLLIE THE DOG
"Christmas at Treworgey. Memorable all in a good way. We were made to feel welcome on arrival and at home throughout our stay. First class facilities. Loved the food and local produce here. We enjoyed the beautiful garden enhanced by winter sunshine and the woodland walk -great on Christmas day. Our special thanks."
THE BUNNEYS
'It has definitely been our best holiday since having children.. The cottage has been perfect.. Ordered a couple of meals from Coombe Kitchen which were delicious and a real treat when you have young children and don't want to cook/can't go out in the evening. We can't wait to come back!'
SIOBHAN, JJ, ANNABEL (7), JOHNNY (5) & ROSIE (1)
'What a superb venue for a family party - complemented by a yummy birthday cake from Coombe Kitchen! It was really ideal for everyone. All in all a brilliant holiday!'
JEAN AND BRIAN MINTOFT & ALL THE FAMILY