This guest blog is by our resident keen cyclist, Andy, who is into both road and mountain biking, and has explored the family-friendly options with our two children. He's included some beautiful road rides for those with an excellent set of legs, lungs and brakes (the countryside has lots of steep valleys!) as well as some lovely easy rides for families and local mountain bike trails.
If you are hiring bikes it is worth phoning ahead to reserve them, especially in high season. Specific bike hire locations are named in the following sections, or if you want to hire bikes for your whole stay "Go By Cycle" (www.cornwallbikehire.co.uk) can deliver them to you here at Treworgey.
The Camel Trail

Family Rides – Camel Trail
Wadebridge to Padstow – 10 mile round trip
This is by far the most popular bike ride in Cornwall and takes you along a smooth, flat gravel path alongside the River Camel. Padstow offers a huge range of options for lunch including Rick Stein's famous fish and chips. Refreshments can also be sought half way between Bodmin and Padstow at the Atlantic Coast Express right on the trail (closed Fridays).
Note that this route can be very busy in high season. Park in Wadebridge at Commissioners Quay Car Park or in Lidl. There are several bike hire shops near these car parks (Camel Trail Cycle Hire, Bridge Bike Hire, Bike Smart Hire)
Bodmin to "Snail's Pace Café" – 15 mile round trip
If you want to avoid the crowds, a much quieter section of the camel trail takes you north from Bodmin through the woodland lined river valley – particularly beautiful if you catch the bluebells in May. The trail ends at the Snail's Pace Café which makes a perfect place to stop for lunch, especially if you enjoy vegetarian and vegan food. They also offer bike hire if you'd like to start here.
If you have your own bikes park in the car park on Scarlett's Well Road in Bodmin and head west on the Camel Trail before taking the north split just before the Borough Arms (if you buy some of their food or drink this makes an alternative parking option). If you need to hire bikes "Explore By Bike" is situated in Priory Car Park on the east side of Bodmin (you will need to cycle on roads from here through the town to get to the Camel Trail).
Bodmin to Padstow – 25 mile round trip
If you want to have a longer ride you can start from Bodmin and go to Padstow. You will go via Wadebridge which itself has plenty of options for lunch and makes a good "plan B" if you decide that the extra distance was a bad idea! (Bodmin to Wadebridge is a 14 mile round trip).
Family Rides - Lanhydrock
As well as the stunning National Trust house, Lanhydrock is a great place to have family fun on bikes. There's something for everyone and bikes can be hired at the visitor centre by the main car park. A map of the trails is available on the national trust website.
There is a bespoke balance bike track at the north end of the main car park. When you are tired of pushing them back to the top there is also a great playground right next to the café.
Speedy kids
For kids that are ready to pedal themselves along there is a longer "easy" trail in the woods beyond the balance bike track. Also, there is a nice off road route to Bodmin Parkway Station (5 mile round trip from the main car park). From the main car park follow the path to the main house and then turn down the drive to Respryn Bridge Car Park (the little ones might need a bit of help up the incline of the drive on the way back). Cross the road here and follow the path through the woods to Bodmin Parkway station. The station also makes a good starting point for a ride with lunch at the café and a go on the playground.
Older kids and adults
There are "moderate" and "difficult" mountain bike trails in the woods with harder features including jumps and drops. These range in length from 0.5 miles to 2 miles. See the national trust Lanhydrock map for details.

Lanhydrock

Mountain Biking - Cardinham Woods
For those looking for a longer mountain bike ride the best destination is Cardinham Woods. The "Bodmin Beast" trail is around 7.5 miles of bespoke single track, with fast flowing sections, technical climbs, rocky descents and a few jumps and drops. The majority of the trail is graded as "moderate" with 2 optional "difficult" sections. The trail starts and finishes at the main Cardinham Woods car park.
The Woods Café by the main car park is highly regarded and makes a great place to stop and refuel between laps. There is also a play area and quiet woodland walks for those not so keen on mountain biking.
The nearest place to hire mountain bikes is "Trail Munki" which is about 1.5 miles away on the Carminnow Industrial Estate on the edge of Bodmin.
Road Rides
Minions and back – 22 mile round trip
Cornwall is known as one of the toughest places in the UK for road riding due to its seemingly endless supply of short sharp climbs with little very little in the way of flat sections in between. However, this route avoids a lot of the steepest hills while taking you right up onto the top of Bodmin Moor.
Start from Treworgey, up the hill to and through Duloe and then take the left fork onto Dobwalls. Cross the double mini roundabouts and head north to join the road to Minions.
At Minions if you fancy an extra climb you can cycle up the lane to the bottom of the transmitter mast where you will find some of the most expansive views of Cornwall available. "Minions Shop and Tea Room" offer great lunches and coffees.
From here follow the same route home which will be (nearly) downhill all the way! If you fancy some extra distance you could build in another 12 miles with a loop up to Bolventor (Jamaica Inn).
Rame Head and Whitsand Bay – 35 mile round trip
This one is quite long and packs in a lot of our famous hill climbs, but, the views are spectacular.
Start from Treworgey and head to Widegates via Sandplace. Carry on through Hessenford until the A374, onto which you turn right. Come off at the junction to Crafthole, pass through here, onto and through Millbrook, and then turn off down to Kingsand. Follow the road through and onto Military Road where views right across Whitsand bay will reward you for making it past half way! Pass through Freathy and then rejoin the road back to Crafthole where you'll bear left at the roundabout to head on to Downderry and Seaton. Carry on back to Hessenford and then back home again via Widegates and Sandplace.
If you want grab the best of the views without all the effort, try parking up in the big layby opposite Tregantle Fort and treat yourself to the spectacular ride along Military Road through Freathy to Rame Head and back (7 mile round trip). There's usually an ice cream van in the layby too!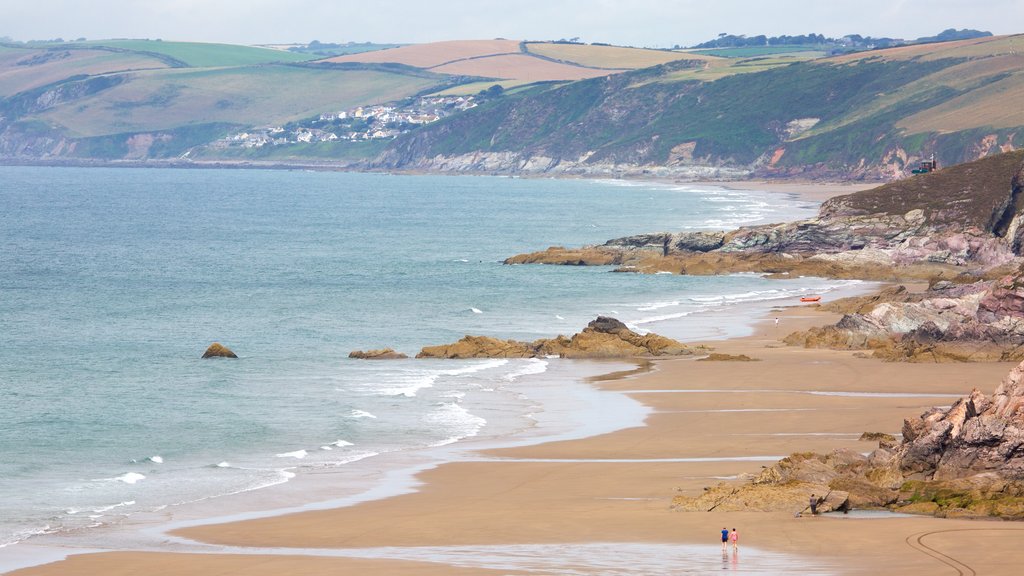 Whitsand Bay
If you find yourself tempted by our cycling routes and are keen to tackle the Cornish hills, check out our latest availability here: https://www.treworgeycottages.com/prices-vacancies/