If you're going to spend a good proportion of your holiday yelling your dog's name as he capers over a distant hill, cleaning up mud that he has spread around your cottage with gay abandon, and driving around with your head out of the car window because he's rolled in something unspeakable, then you really deserve a decent reward for your trouble.
That's why, in my view, a good dog walk should involve a decent lunch, coffee, pint or cream tea somewhere along the way. The perfect holiday dog walk should combine beautiful views, very few sheep, and something delicious to eat – since burning more calories than you consume just doesn't feel like a holiday.
If this sounds like your cup of tea, read on for the best combinations of dog-walk and dog-friendly crib stops in South East Cornwall.
Portnadler Beach and a crab sandwich at Island View Café
Park on the side of the road at Hannafore in West Looe, as far along as you can get (the road ends where the coast path starts). Head out on the coast path going west. After about 15 minutes, you can walk down through a little gate to Portnadler Beach. This is a long (especially when the tide is out), sandy beach which is dog friendly all year round. Stroll back and pop into the Island View Café at Hannafore for the best crab sandwich around (or various other goodies if crab isn't your thing) while gazing out at Looe Island.
Talland to Polperro and a pint at the Blue Peter
Park either in the car park at Talland's westerly beach (there are two little beaches in the bay), or on the side of the lane between the two beaches, then hit the coast path heading west. This spectacular (but hilly) coastal walk will take you to the picturesque village of Polperro in about 45 minutes. Head to the Blue Peter Inn for a cosy seat among the locals and a delicious Cornish ale. Watch your head on the beams. They have live music on Fridays, Saturdays and some Sundays so check their website: https://www.thebluepeterinn.com/live-music

Golitha Falls and a pulled pork bap at Inky's smokehouse
Meander through shady but beautiful woodlands along the banks of the River Fowey and admire the falls. It's fairly level (but uneven), so if you want to add a bit of spice, take your cossie and have a swim in one of the pools! Back at the woodland carpark, warm up with a hot chocolate covered in excessive amounts of cream alongside a pulled pork bap or smoked bacon sandwich. Inky's smoke all their own meat and their food is really delicious, but filling -make sure you go there hungry!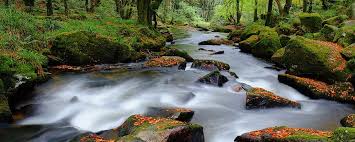 Menabilly walk with pizza at Polkerris
A circular walk with spectacular coastal views can begin and end at Polkerris, the home of Sam's on the Beach. Here you can sit outside with dogs and order delicious stone-baked pizzas or lovely fresh mussels from the nearby River Fowey. To start the walk, sniff out the slightly hidden path that goes up between the beach at Sam's, through the woods towards the cliff top.